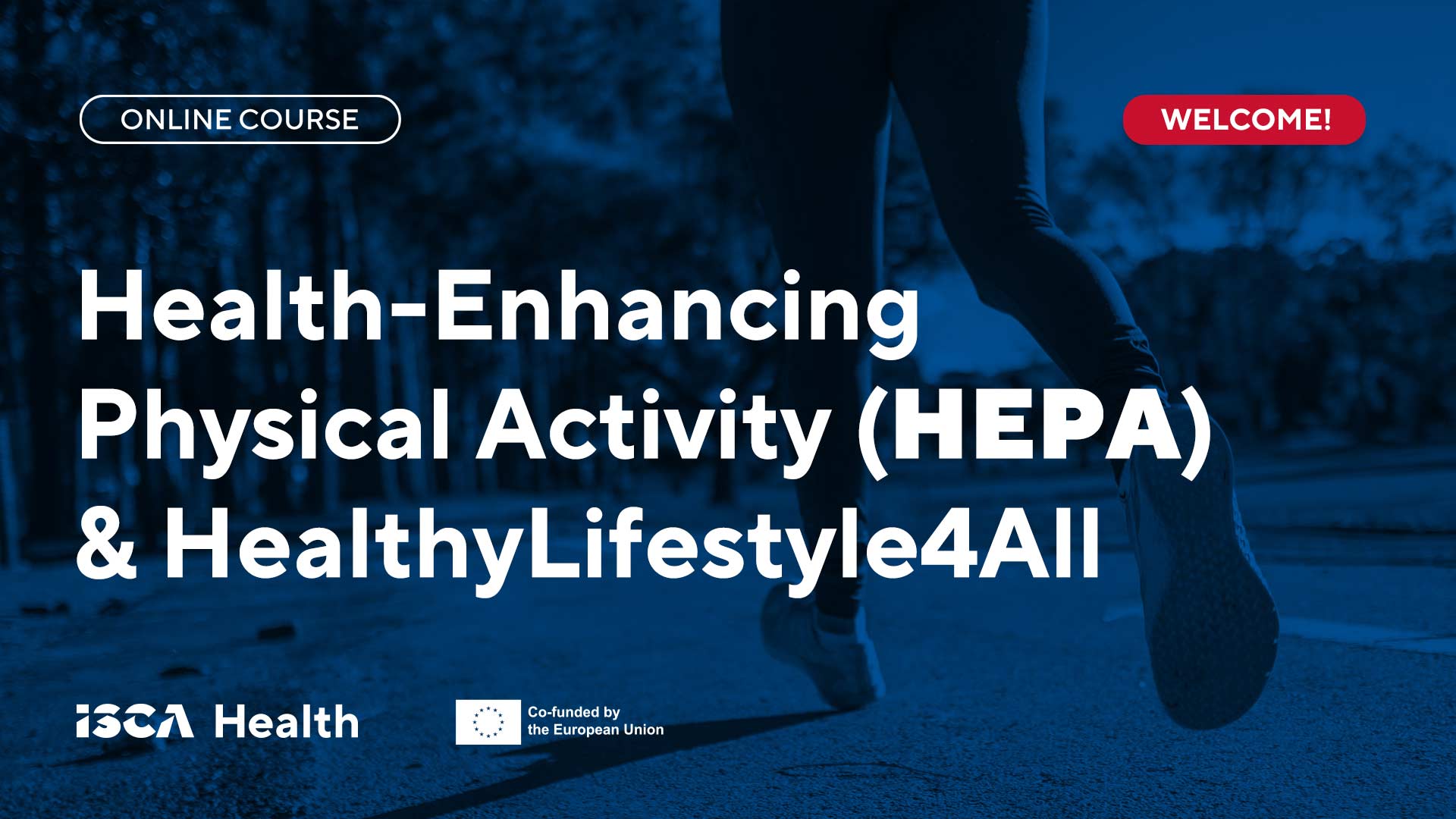 Welcome to our course "Health-Enhancing Physical Activity (HEPA) & HealthyLifestyle4All" – a learning resource for physical activity promoters to make the transition to a healthier lifestyle become more achievable for their participants.
Since 1995,
has been acting to empower physical activity stakeholders to get more people active and healthy.
's work is therefore closely aligned with the broader health promotion and disease prevention agenda.
We believe sport and physical activity can contribute to the EU's vision of a #HealthyLifestyle4All. Indeed, ensuring people's right to move through physical activity will have a positive influence on their well-being and social welfare, and this is what motivates us at ISCA. We have seen plenty of evidence, recommendations and policies, so we are here to "walk the walk" and engage with other sectors to collaborate and encourage them to recognise the contribution of grassroots sport and recreational physical activity to citizens' health and wellbeing. In short, we are doing our part to make healthier lifestyle choices possible for all Europeans.
The purpose of this course is to help you in your key role as a MOVE Agent – a community-based agent of physical activity promotion – to take a leadership role in meeting citizens where they are and helping them to adopt a healthy lifestyle through your health-enhancing physical activities.

What to expect?
An inspiring mix of resources…
In this course, we will provide you with tools, evidence, inspiration, and learning opportunities to translate to your own countries and contexts and implement in your practice and processes. It is meant to equip you with the tools and knowledge to contribute to the needed systemic change.
In fact, the course has been developed to interconnect clubs and coaches with care topics & knowledge in order to facilitate cooperation between them and have more impact.
Delivered by recognised experts…
When building this course, we reached out to members of
HEPA Expert Group as well as
members and stakeholders, engaging as many organisations, clubs, and experts from the network as possible to share and present their work. We have hosted a series of webinars, recorded interviews, and made case studies of specific examples that will inspire and motivate you when challenges arise.

The HEPA & HealthyLifestye4All Online Course will help you to:
🔹 Understand why health-enhancing physical activity (HEPA) is important for our health and well-being.
🔹 Learn how to design physical activities that can enhance the well-being of your members and participants based on their needs and challenges.
🔹 Take the first steps to deliver and measure the impact of health-enhancing physical activities for a range of different target groups and in different settings.
Key information to navigate the course
You will need 5 to 6 hours to complete the course.
Course materials: video transcripts, recommended readings, podcasts, and presentations are downloadable and included within each module.
After finishing each topic, click

at the bottom of the page. This will help you know where you are ("Topic" will be marked with a checked icon in a green circle) and bring you straight to the next topic. Repeat the process with the module to mark your advancement.
After completing this introductory module, we recommend two approaches to completing this course:
"Pick and choose" elements according to the needs and challenges you or your participants face, or
"Step-by-step" following the course as a sequence of sessions that will build on and complement each other.
To finish the course you will need to complete all modules, take the test at the end to check your knowledge AND complete a quick feedback form.