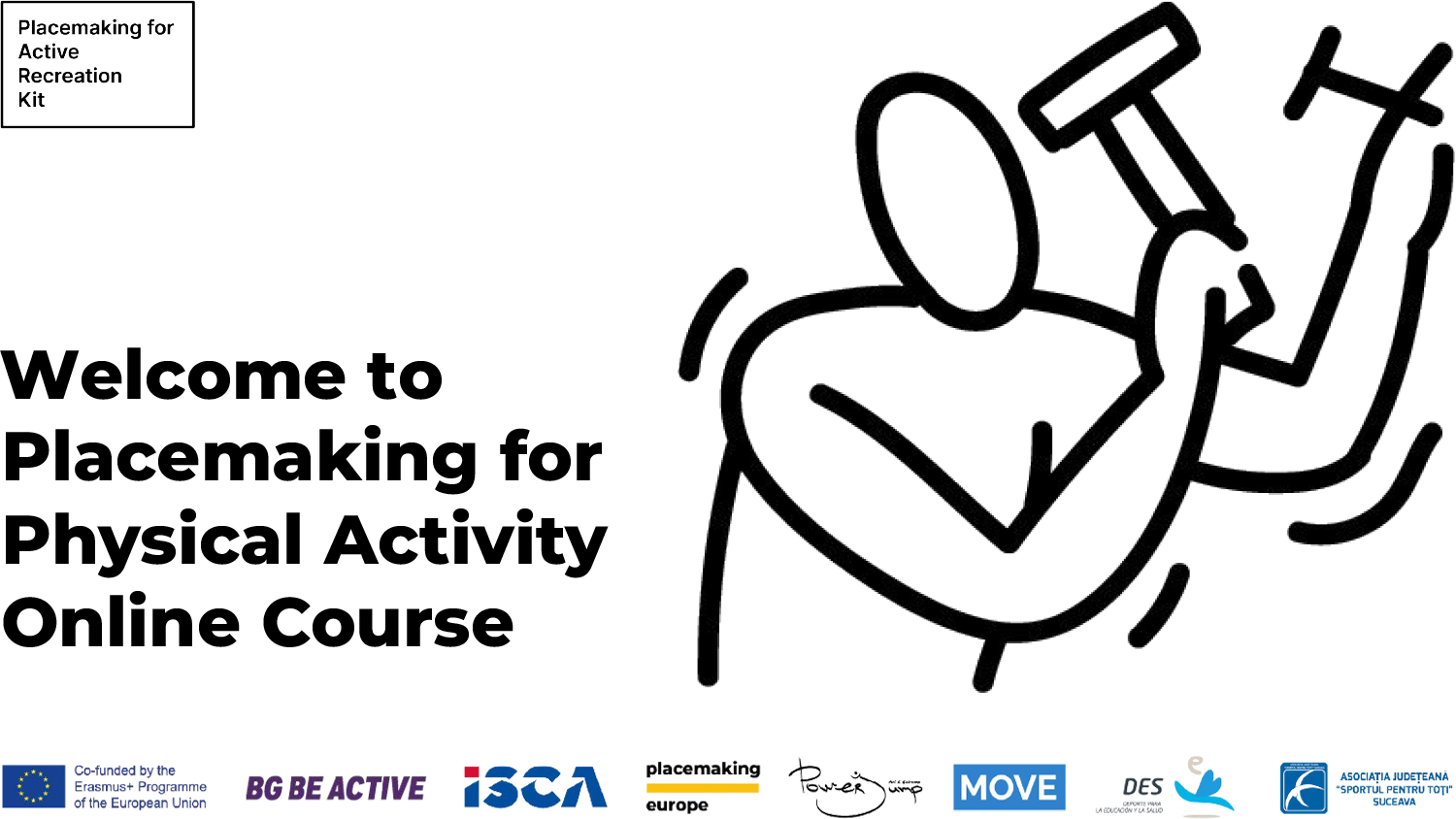 This course focuses on showcasing and sharing good examples from our network of doers, practitioners and change-makers who inspire people to collectively reimagine and reinvent public spaces as the heart of every community. Strengthening the connection between people and the places they share, placemaking refers to a collaborative process by which we can shape our public realm in order to maximise shared value. More than just promoting better urban design, placemaking facilitates creative patterns of use, paying particular attention to the physical, cultural, and social identities that define a place and support its ongoing evolution.
The main aim of the course is to share experiences, ideas, examples and learnings from different organisations, clubs, cities and projects.
In this course you will find 6 modules:
We will ensure that you will be provided with an adequate understanding of the terms above and how they are used in the relation of the course. We will take a closer look at placemaking, The City at Eye Level and showcase how to use different community space design tools. By reading and listening you will find out how to involve, engage and educate citizens in placemaking and how to involve, engage and gain input from relevant stakeholders and partners. We also present many interventions and experiments with public space from different countries, as well as how these countries manage to maintain the space and deliver activities in it. We also address the importance of evaluating and measuring impact of initiatives and getting feedback from all parties involved and what kind of tools can be used. Last, but not least, we will lead you towards insight and tools to advocate effectively for more public spaces to be made available for people to be active in them.
We invite you to start the course and enjoy the ride!
We also offer you a bit of pre-experience with a MOVEment Spaces course.
MOVEment Spaces are places that encourage local community members to use their surroundings to be active. By creating accessible and safe places for people to participate in sport and physical activity, you can play an important part in boosting their health and well-being. It's as simple as that – but how do you transform an urban space into an active space? And how can you get the most out of your existing activities by utilising the spaces and architecture in your community?
Complete the MOVEment Spaces online course for tips and first-hand experience from our experts on how to get started or to broaden the reach of your activities. The content is especially for grassroots sport organisations, community organisations, local authorities and urban planners to discover how to find opportunities to work together to deliver physical activities in urban spaces and create a positive social impact.
You will need about 5 hours to complete the course.
After finishing each module, make sure to click

at the bottom of the module page.